We are open!!
Here we go !!
The 2019-2020 ski season is officially open from 9am on Friday, November 29. Special opening rates are in effect until Friday, December 6. Click here to see them. Here are the tracks that are open for now: 
– La Familiale (1)
– L'Alpi (1a)
– La Débutante (PAM) (1c)
– Le Premier-Défi (2)
– La Pente-École (4)
– La Conrad-Delisle (5) en piste pour tous
– Le Mirador (6)
– La Lac-Beauport (8)
– La Guy-A. Paquet
– Temporary snowpark (10 modules) at the bottom of slope 7 (Gaby-Pleau)
Our teams work very hard on the mountain to provide you with perfect conditions. Gradually, other slopes will open. Be on the lookout!
Schedule:
Monday to Friday
Samedi et dimanche
9 a.m. to 21:30 p.m.
8:30 a.m. to 21:30 p.m.
See sliding conditions and the number of open runs : click here.
---
4 reasons not to enter closes trails (day or night)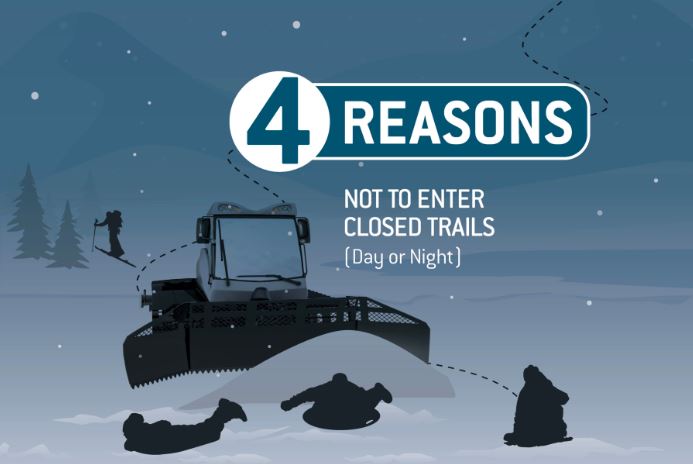 THE SNOW HAS FINALLY ARRIVED!! HOORAY!!!
However, the mountain is not completely open. It can be dangerous to drive in closed tracks. In collaboration with the ASSQ, here are 4 reasons not to go on closed tracks (day and night).
1. DANGEROUS CONDITIONS 
Mounds could prevent operators of snow-grooming machines ans of snowmobile from seeing you. There could be holes, crevasses, ice, and other dangerous conditions on trails under maintenance
2. NO RESCUE
There are no first-aid workers to help you if you injure yourself. You could spend several hours in the cold before being rescued, and you could suffer from hypotermia.
3. EQUIPMENT AT WORK
If you use the trails while the snow-grooming machines and snowmobile are maintening them, you are putting yourself in danger. The dim lighting reduces operators visibility, and they are not expecting to see people using the trails without authorization. You run the risk of being in the way of the snow-grooming machines without the operators being able to see you. Colliding with a snow-grooming machine would be a serious accident!
4. INFRACTION
Using the trails outside of opening hours is prohibited. The ski area could take a legal action against you. Use the trails only during opening hours.
---